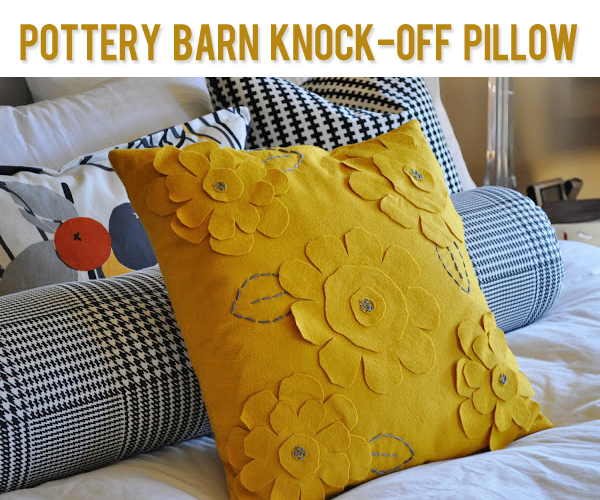 Hello, HowDoesShe gals!! I am SO excited to introduce you to our amazing guest poster today! Let me introduce Cheri from
She is a fabulous craft diva who can do it all! We are beyond thrilled that she accepted our invitation to contribute a guest post for all of us at How Does She! Let's get to know her a little better!
Hi! My name is Cheri! I'm a mother of two boys and I love having a project, eating anything sweet, and finding a bargain.  Today I'm going to show you how to make this Pottery Barn knock-off pillow.  (I'm referring to the four in the back and not the front ruffled ones.)
I loved this pillow right when I saw it and ripped out the page to save it for inspiration.  When my sister decided to redo her bedroom I told her I'd make her this pillow in her color scheme.  It was easy and if you're afraid of the sewing machine then don't panic.  There was VERY LITTLE sewing involved.
She had purchased this pillow, so I measured it and cut a front and back from felt.
Before sewing the pillow together I did all the embellishing.  If you'd like to make this pillow I've tried to make it super easy for you.  You can print out my free PDF files of the two flowers I drew.  There are two different flowers and you can print them HERE and HERE.  I used three of the little flowers and two of the bigger flowers.
I pinned my flower pattern to the felt and cut out the number I needed.  Then I cut the pattern down to the next layer of the flower and did the same, continuing on until I had all the layers for all of my flowers.
Next, I arranged them on the pillow in a way that looked pleasing to me.  Remember, you don't want to get too close to the edge because you need a little room to sew the pillow.
Then I took the same floss and free-hand stitched leaves next to some of the flowers.
I want to thank the ladies of How Does She for letting me come over and play today.  And all of you readers are more than welcome to stop in at my
place anytime.  Thanks!
What did I tell you? Fabulous, right? I just HAVE to make one, or two… or a dozen
If you liked this tutorial, I know you'll want to check out these other fabulous posts from on Cheri's Blog!