Halloween is one of those times of year when kids can indulge in way too much sugar, turning even the sweetest little prince or princess into a goblin!  Help kids balance sugary indulgences with some healthier offerings that are still festive and fun with these ideas from around the web.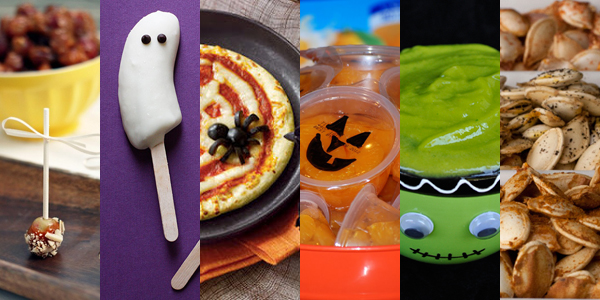 1.  Caramel Grapes help satisfy a sweet tooth with small portions.  Sometimes, just a taste is all you need!
2.  Frozen "Boo"-nana Pops  are simple and sweet.
3.  Halloween Pizzas – Done 7 Ways!
4.  Spooky Healthy Snack – Mandarin Oranges and a Sharpie.
5.  Monster Mash Pudding & Sorbet - 3 ingredients, 3 minutes!
6.  Toasted Pumpkin Seeds: Three Ways
Have a Healthy Halloween!
Like This Post?