Say Cheese…2 Canon Cameras Giveaway to Capture Back to School Memories!!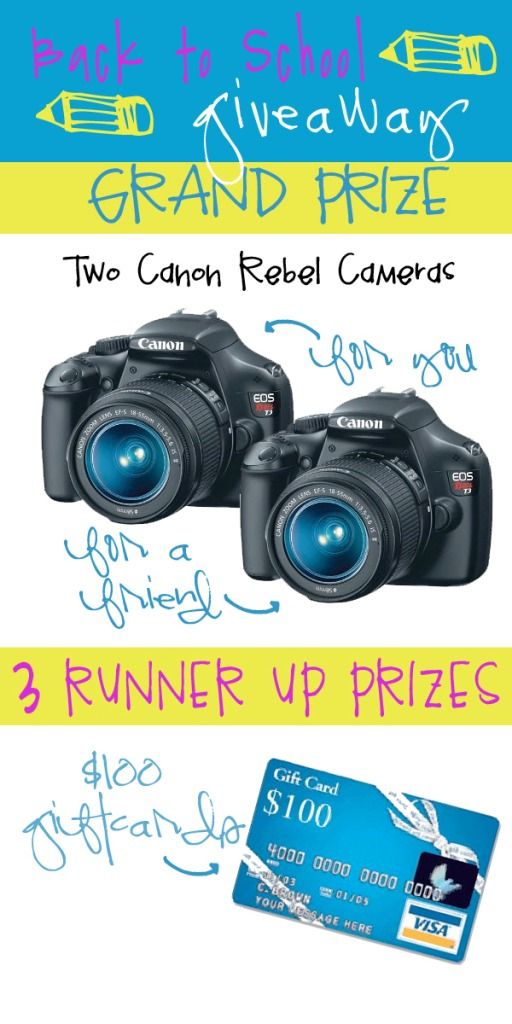 Giveaway is over…
Here are the winners:
*grand prize winner     PAM W
runner up    Dawn Z
runner up    Stephanie S
runner up    Hailey P
YEAH!!!!  Outrageously huge prizes for back to school memories!!!
Get your kids ready to say "Cheese" – you could be one of two lucky winners to win a brand new CANON REBEL CAMERA! And yes, I said one of TWO! Up for grabs is 2 of of these amazing cameras – one for you and one for you to give to your friend. So be sure to spread the word and get all your favorite "friends" and family members to enter because if you don't win, maybe they will and then share their luck
.
AND, if that weren't enough to get you excited and ready to start "Liking" (see below), we've got THREE $100 gift cards, for a few lucky runner ups.