9 Fab and FUNCTIONAL Craft Ideas!
September 15, 2011 by Bobbi

The only thing better than a fab craft is a fab AND functional craft!! Let's put those crafts to work, shall we? I'm sharing just nine of the amazing functional craft submissions from I Share Crafts! Haven't you been loving the amazing craft ideas? Have you submitted your ideas to I Share, yet? What is keeping you? It's time to share the love, people!
Okay, let's get sharing some fab AND functional crafts. Here we go!
1. Do you have a personal craft cutter? Do you go to crops? Then you'll love this how-to from Madigan Made! A personal craft cutter case! I'm doing this TODAY!!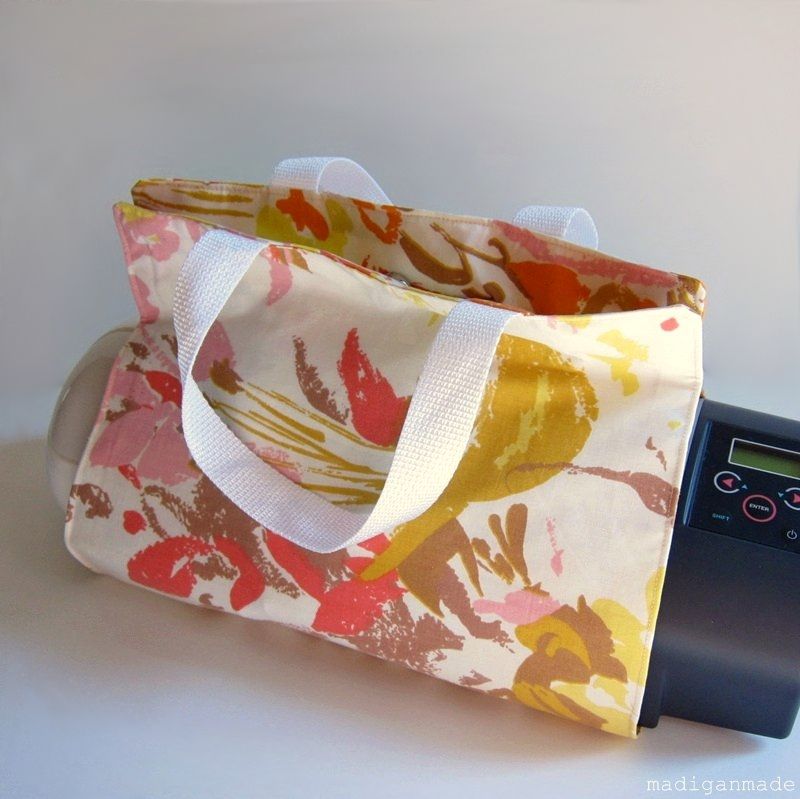 Sew A Case For Your Craft Cutter
2. I love giving something old a brand new use! Check out this crib-turned Jewelry case from Infarrantly Creative. SMART!
Crib to Jewelry Organizer! from Infarrantly Creative
3. Let your kids craft in STYLE with a crafted Art Smock made from oil cloth like this one submitted from "Sweeter Than Sweet". Your kiddo will LOVE it, and so will your laundry budget!
Oilcloth Art Smock
4. Jillian from "Blessings of a Lifetime" makes GREAT use out of this simple drink caddy, turning it into a FAB craft organizer! LOVE THIS!
Drink Carrier to Art Tote
5.  We all have paper bags lying around…why not craft them with some apples, paint, and creativity..and send our kids' lunches to school in style?
Apple Print Lunch Sacks from Homespun With Love
6. Make great use out of those fabric scraps and make a fab AND functional little ruffle cinch bag! I wonder if I can make one in my size?
Ruffled Cinch Bag from Craft Goodies
7. Technology is great, but it does lend itself to lots of e-waste, am I right? I adore this idea of crafting a cute e-waste basket for all of those dead batteries, etc. Smart, right?
E-waste basket from Homework
8. Also, from Homework, breathe new life into an old bowl with some twine or rope! This is fun!
Rope Bowl
9. We love Mod Podge Amy, and she is back sharing a detailed how-to craft your OWN lamp! The paper possibilities are endless. You can get much more FUNctional than that!
Vintage Map Lamp How-To
Are you inspired to create? For me, if the end result is functional…I'm even more motivated! So, time to get creative and get crafting! Visit the I Share sites for even more creative inspiration!
And, just in case you missed it last week, here are just a few FUN food ideas for Fall!
Happy Creating!!