7 Last Minute Gifts and Goodies
December 21, 2010 by Bobbi

Hi HowDoesShe Gals!
Did you know that I was DONE with my Christmas shopping back in November? I mean, the MIDDLE of NOVEMBER! Bought, wrapped, and ready. So WHY have I been running around for the last month buying this, making that, giving this, sending that? It happens EVERY YEAR! There is always someone I forgot on my list, or someone new to add. There is always a cute home decor idea, or recipe I just HAVE to try. It seems like I can't enjoy the season unless I'm DOING, and when doing for others…it's even better! So, if you're like me and you're needing a few last minute ideas, I'm happy to share!
Santa might just leave you a little something extra if you left out a plate of these gorgeous candy cane cookies from "Glorious Treats" on Christmas Eve! Santa will be lucky if there are any LEFT for him to eat. Mwa ha ha ha ha!
Need a last-minute (like, VERY last minute) stocking stuffer idea? Or, better yet, a New Year's Eve Cracker stuffer? Try your hand at one of these adorable Hand Sanitizer holders submitted by A Lemon Squeezy Home! I'm in love with the fabric!
After Christmas caroling at some friend's houses, one of them handed me a bag of M&Ms with a cute poem attached!  I loved the idea of having something like this handy, so I created a simple printable to make these simple gifts that much easier!
Impress your dinner guests with these glorious apple-topped muffins submitted by Little Food Junction! I love being able to EAT the decorations!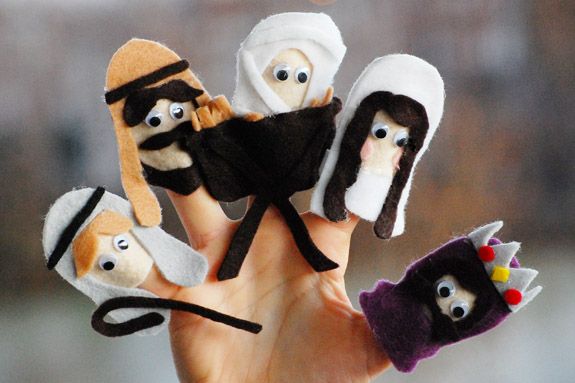 I don't know about your, but I always need ideas to keep the little ones entertained during that LOOOOONG couple of days before Christmas. Wouldn't these little Nativity Finger puppets be perfect? So sweet and easy to whip up.
Another simple, yet totally elegant decor idea is a fabric ruffle tree submitted by Tatertots and Jello. Oooooh, they are making me do my happy dance!
I was SO thrilled to see this submission from Craftily Ever After! Just print and display! I could see displaying this all year-round, personally. I love looking for joy in every day moments. If you are looking for a last-minute gift, you can't beat this for style, simplicity, and price! Triple threat!
Phew! I think that's enough to keep me busy until Christmas in – what – FOUR sleeps?! Are you as excited as I am? What have YOU been doing to spread the cheer and enjoy this Christmas Season? I hope you'll share your ideas on the IShare sites!
Merry Christmas to all, and to all a good night!