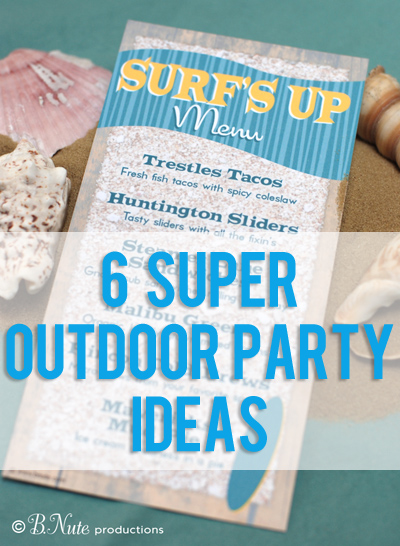 The temperature has been rising and rising, and you know that means…. OUTDOOR PARTIES! Taking the activities outside ups the "fun" factor BIG TIME. Not to mention the mess and the noise isn't happening in your new living room
Besides, kids really love the freedom of having wide open spaces to play. So, I'm rounding up 6 SUPER ideas for bringing the party outside,  including some fabulous FREE printables to make it even more simple and fun.
I live in the Prairies, and I love the idea of bringing the sea to my own backyard with these adorable party printables from Peonies and Poppy Seeds!
I know more than a few kids (and, let's face it….adults!) who would go crazy over a paper airplane themed birthday party! The Craft Mummy shares all kinds of great ideas for invites, decorations, and games for a "high flying" paper plane party!
3. Very Hungry Caterpillar Birthday
I could easily see this adorable "The Very Hungry Caterpillar" theme being taken out of doors and making a garden party out of it! I love how "The Craft Nest" walks us through exactly how to set this up, complete with a grocery list! Love any help that I can get! How fun would it be to give copies of the book as a gift for the guests? Or invite all of the kids to bring their favorite book to share. OR turn this into a baby shower and ask the guests to bring their favorite childhood book as a gift. Fun!
4. Surf's Up Party &  Printables
Bnute Productions has gone above and beyond with her "Surf's Up" themed party. We're talking printable EVERYTHING, including this adorable menu. This could be done ANYWHERE and at ANY time of the year.
5. Ice Cream Parlour Printables
We ALL scream for ice cream, so this printable set from "Funkytime" has me giddy! You could get so cute with this party theme – imagine setting up a cute little outdoor ice cream parlor with several toppings and flavors, maybe even a variety cones or dishes to choose from, too! This would be a huge hit with children of all ages (cough..me…cough).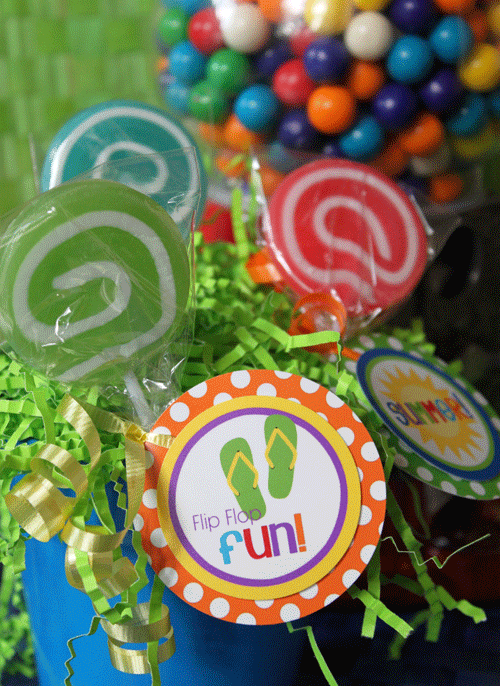 Amanda's Parties shares a super fun flip flop party idea, complete with printables. Flip flops just scream "outdoors in the summer" and since they are so inexpensive, it would be fun to have a pair for each party guest. Maybe do some pedicures and take LOTS of cute pictures.
Oooh, I'm so exited for summer parties! These ideas from IShare will have your party guests talking about the great time they had for weeks (or longer)! Pop by any of the I Share sites for even more party inspiration, fun food ideas,  and FREE printables! And if you have a great idea to share (your own creations, please) feel free to submit on the I Share sites and share your ideas with the world! We love sharing! Remember, all of the ideas on these website have been submitted by YOU, so click on the picture and it will take you to the website/blog of the submitter where you can download the free printables and leave great comments for the brilliant minds behind the designs.
Happy partying and happy sharing!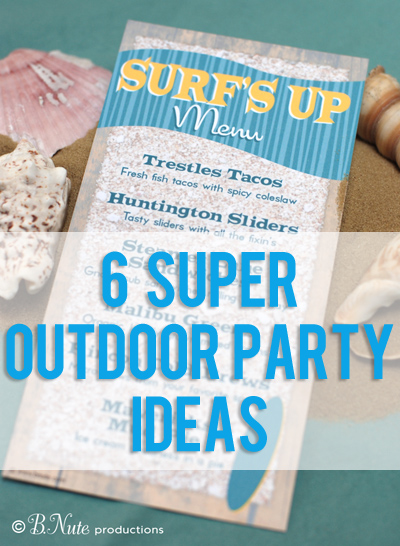 Like This Post?