Does anyone else get absolutely GIDDY walking into a fabric store? The colors, the textures, the patterns….it's like Christmas! There are fabrics for every personality and style and there is something intrinsically satisfying about creating something useful from nothing but your imagination and piece of material
HOWEVER if you're like me, sewing and fabric crafts are also uber intimidating! There is so much creativity needed and I'm always scared that I might accidentally cut my material wrong using my special fabric scissors for crafting. That is why I {heart} tutorials. I might not be the sharpest pin in the cushion, but I am capable of following step-by-step instructions. Without them, it's like reading a sci-fi novel.. you look at it thinking "Ya, that's not gonna happen"
IShare Crafts is overflowing with fabulous fabric projects for every skill level. Here are a few that caught my eye!
1. Brassy Apple had me giggling when I saw these PRECIOUS little doll aprons. It's perfect to practice on before I make one MY size!
Itty Bitty Doll Apron
2. This project idea had me so curious! What is a post office bag for? Soap Deli explains all… and let me tell you. SMART!
Post Office Bag
3. Bring some fun color into your kitchen with this bright and fun – oh, and NO SEW – table runner from Madigan Made. Sounds right up my alley!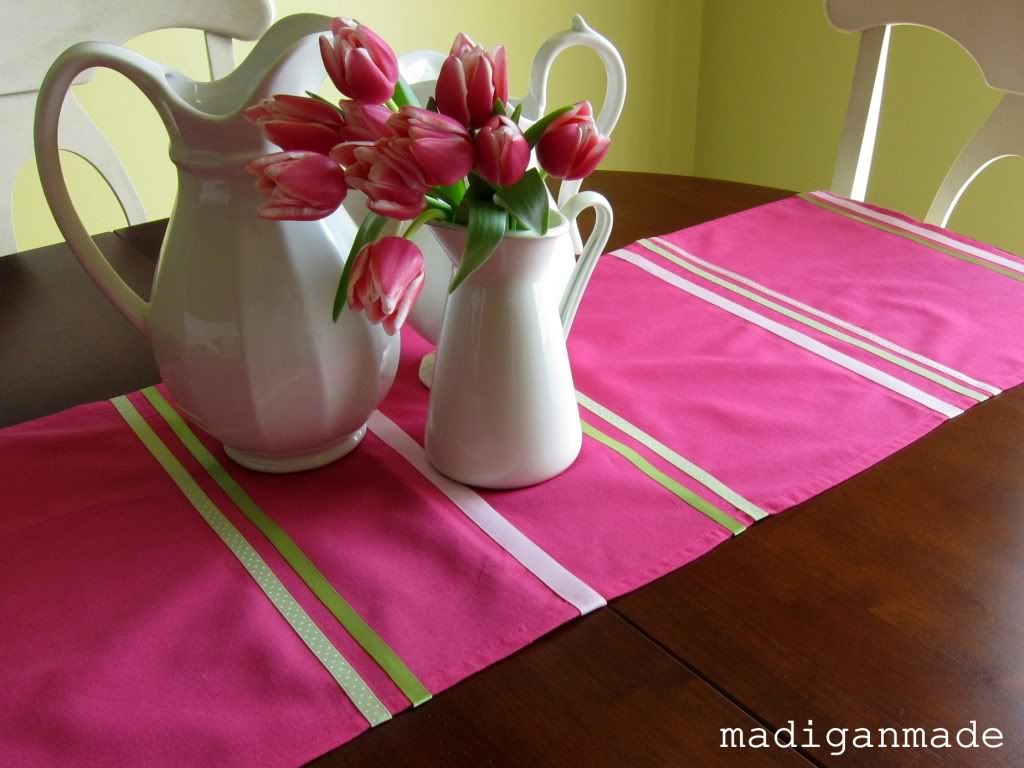 No Sew Table Runner
4. These cherry blossom trees submitted by "Come Together Kids" are gorgeous, obviously…but there is a twist that is so meaningful and makes these little trees even more precious.
Cherry Blossom  Trees
5." A Sprinkle of This" submitted a brilliant tutorial for a bookmark that will NEVER lose your place..AND works for both soft and hard cover books! Oh, and did I mention, it's stinkin' cute?
Stay Put Bookmark
6. "Funkytime" shows us the one way to make baguettes even more appealing…keeping it in a fabric bread bag! Love this!
Bread Bag
7. We have seen all kinds of gorgeous hair accessories, but "Mormish Mom" submitted a truly unique one that is gorgeous, funky, AND interchangeable. How fun is this?
Interchangeable Ruffle Headband
8. How do you make an already adorable doll bed completely OVER THE TOP cute? "I Heart Naptime" shows us in this easy tutorial!
Doll Bed Ruffle
9. We have featured several fun felt flower pillows in the past, but how about a FLEECE one? These flower pillows are so fun and the tutorial walks us through each and every step!
Fleece Flower Petal Pillows
10. We haven't forgotten to share a pillow for the grown ups! Learn how to make this chic accent pillow that will have your friends drooling!
Gorgeous Accent Pillow
11. Craftaholics Anonymous has taken fabric to a new place..in a necklace! This ruffle necklace is so pretty and would rather glorious around my neck!
Vintage Ruffle Necklace
12. Do you have a bunch of fabric scraps laying around with nothing to do? Do you have daughters who collect those fast food prize rubber bracelets that are also lying around with nothing to do? Let's introduce them and see if we can get some sparks to fly. Maybe we'll end up with some cute fabric wrapped bracelets like these submitted by Blue Cricket Designs!
Scrap Fabric Bracelets
13.Craftaholics Anonymous made some GOOD use out of some old T-Shirts by making them into some amazing pom-poms! These will definitely be a topic of conversation.
Recycled T-Shirt Pom Poms
14. Hippos and Dinosaurs has got the right idea with creating these pretty, functional, and re-useable fabric party bags! I have done this in the past, and it's always a big hit!
Fabric Party Bags
15. Finally, a personal favorite. I am NOT a super skilled sewer, however I DO love my camera and I CAN sew straight lines. So, I gave this tutorial a try and…..SUCCESS! What I love about this one is, she helps you add an awesome little pocket to keep your lens cap in (which is what sold me – I've lost a cap or two in my time).
Camera Strap Cover with Pocket
SEW, did you find a project you think you can make? Switching up the fabric can make any project unique to you and give it your 'signature' look and feel. Fabric is also very durable and crafts made with it really last! Hop on over to IShare Crafts for even more fabric projects and crafts and then, share your own creations! Hope the see you there!
Happy crafting and super sharing!
Like This Post?