Okay, who KNEW you could get so creative with potato sacks? I Share has been BURSTING with BURLAP! It is not just for potato sack races anymore
I am here to share just 14 of the burlap projects that caught my eye – but there are more! You must take some time to check out the rest on I Share Crafts. Promise? Okay, let's start counting!
1. First, flowers. "Time To Experiment" some old rice sacks that had colorful inking already on them to create some gorgeous flowers! Oh, and you'll want to see what else she made from the same bag. That's one crafty gal!
Burlap Flowers
2. Autumn is the perfect time to make one of these gathered table runners from The Polka-Dot Umbrella. You can customize it to match your own home decor with the fabric you choose. That's what is so great about burlap…it matches everything!
Gathered Table Runner
3. The Scrap Shoppe created a super cute monogrammed piece of wall art with some burlap and an embroidery hoop. Cute!
Burlap Embroidery Hoop
4. I love the idea of using burlap as a backing on a frame, like this "Blessings Board" from "Life Of Bliss". How cute would these be as an erasable menu board or chore chart? Easy!
5. This is just the first of some super cute burlap wreaths I found. "Craftaholics Anonymous" wrapped the burlap around the wreath, then made some sweet Fall flowers with dyed burlap. Perfect for Fall!
Fall Wreath
6. How simple is this? "Blessings of a Lifetime" created a chic piece of home decor by simple wrapping some burlap around a canvas and stamping on a gorgeous image with fabric paint.
Burlap Wall Decor
7. Okay, wreath #2. "Gallamore West" created this rustic beach wreath and added some shells and other fun beach "stuff" to make this perfect for summer. I love wreaths in the summertime!
Beach Burlap Wreath
8. Want your business cards to stand out? Why not back them with some…what else….BURLAP! Homework has the right idea with these
Burlap Business Cards
9. I have a slight "thing" for bags. Okay, I'm obsessed. Seriously. Is there a 12 step program for bag-a-holics? "Funkytime" created this gorgeous 'coastal' burlap tote that I would DIE for! Maybe she'll make one for me?
Coastal Burlap Tote
10. Wear burlap? YES!!! And I don't mean in a "paperbag princess" type way. "Brassy Apple" shares how to do these precious burlap rosettes. Wear them on a bracelet, in your hair, clipped on your shoes, or on a bag. LURVE it!
Burlap Bracelet
11. Burlap is functional..and not just for holding potatoes. "A Little Tipsy" made this adorable earring holder using burlap and an embroidery hoop. Love that combination!
Burlap Earring Holder
12. "Make It, Love It" knows that I can MAKE these burlap stockings and that I'll most definitely LOVE them. I'm in love with these.
Burlap Stockings
13. And wreath #3. "Tatortots and Jello" created a rosette wreath that could be customized for absolutely ANY occasion. Burlap is SO versatile.
Burlap Rosette Wreath
14. This is so easy, I'm amazed I haven't thought of it. "TidyMom" covered a corkboard with burlap to dress up a bulletin board. The great thing about burlap? You can stick holes in it and it won't show! Smart!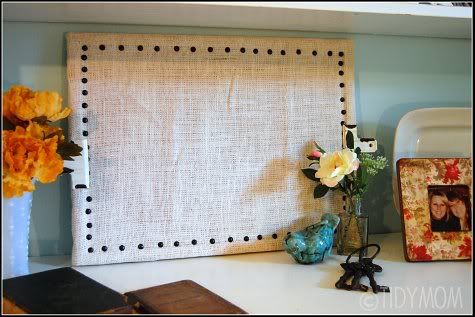 Burlap Bulletin Board
Okay, so here is where I need some help. Where do YOU buy burlap? I'd love to get me some large pieces of it. I need to get creating! Isn't IShare wonderful? Check out I Share Crafts for even more crafty inspiration, and while you're at it…check out I Share Printables and I Share Fun Food, too!
Happy burlap-ing!
Like This Post?